Nothing is quite as peaceful and romantic as a hot-air balloon ride: it's a great way to celebrate an accomplishment, "pop the question", or just relax. Join us as we float over Cedar Rapids and the gorgeous Iowa countryside. Rides generally last about an hour, and flights are available in the morning and evening. Some restrictions may apply. Please email or call us for details. We look forward to flying with you!!!

help launch one evening. The balloon crew was a great fit for a high school student during the summer: work hard for a couple of hours and get a free meal. After Kevin got his first ride, he was permanently hooked. Soon after that, he was a regular member of the chase crew and wished to become a pilot someday. Kevin continued to crew in Cedar Rapids, as well as crew for many weekend and week-long festivals throughout college and after graduation. Finally, in 2002, the opportunity presented itself to become a pilot. As a joint venture with his wife and inlaws, Winnie Hosford and Bill Hosford, Kevin purchased his first balloon and began training to become a pilot. Soon Kevin's dream of becoming a balloon pilot was fulfilled, and he continued with training to become a commercial pilot certified to offer rides and flight instruction. Kevin enjoys flying in the Cedar Rapids area, as well as around the country at competitions. Kevin shares his passion for ballooning with his young son/crew chief, Peter, and his daughter, Sasha. Kevin's wife, Shelley, provides behind-the-scenes support by designing promotional materials and conducting administrative duties. When he is not in the air, Kevin and his wife support themselves as professional photographers with their studio, Elite Photography.

Our first balloon had a wonderful history behind her. Originally "Glasnost", she was built by her previous owner specifically for a trip to St. Petersburg, Russia. She is seen here launching from Catherine's Summer Palace in St. Petersburg. Renamed "High Spirits" after the trip, she flew over the greater Cedar Rapids area, and on an occasional road trip to an out-of-town balloon competition.
Glasnost / High Spirits (Retired)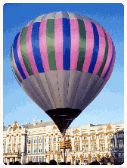 Interesting Facts:
Make: Cameron Balloon
Model: N-77
Height: 60 feet
Weight: 250 lbs.
Volume: 77,000 cubic feet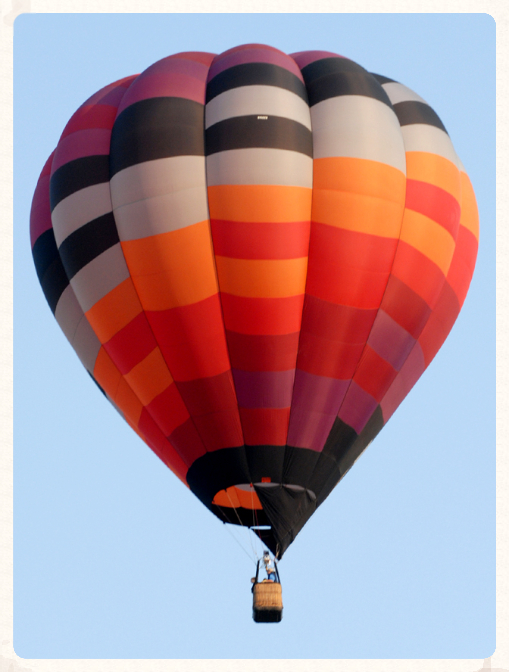 Interesting Facts:
Make: Cameron Balloon
Model: N-77
Height: 60 feet
Weight: 250 lbs.
Diameter: 55 feet
Volume: 77,000 cubic feet
Our First Flight: July 5, 2006
Our third balloon is used in an advertising arrangement with Linn-Area Credit Union. Often flown by Pilot Kevin Kamp, this balloon was created for the sponsors of Balloon Glow at Brucemore Mansion.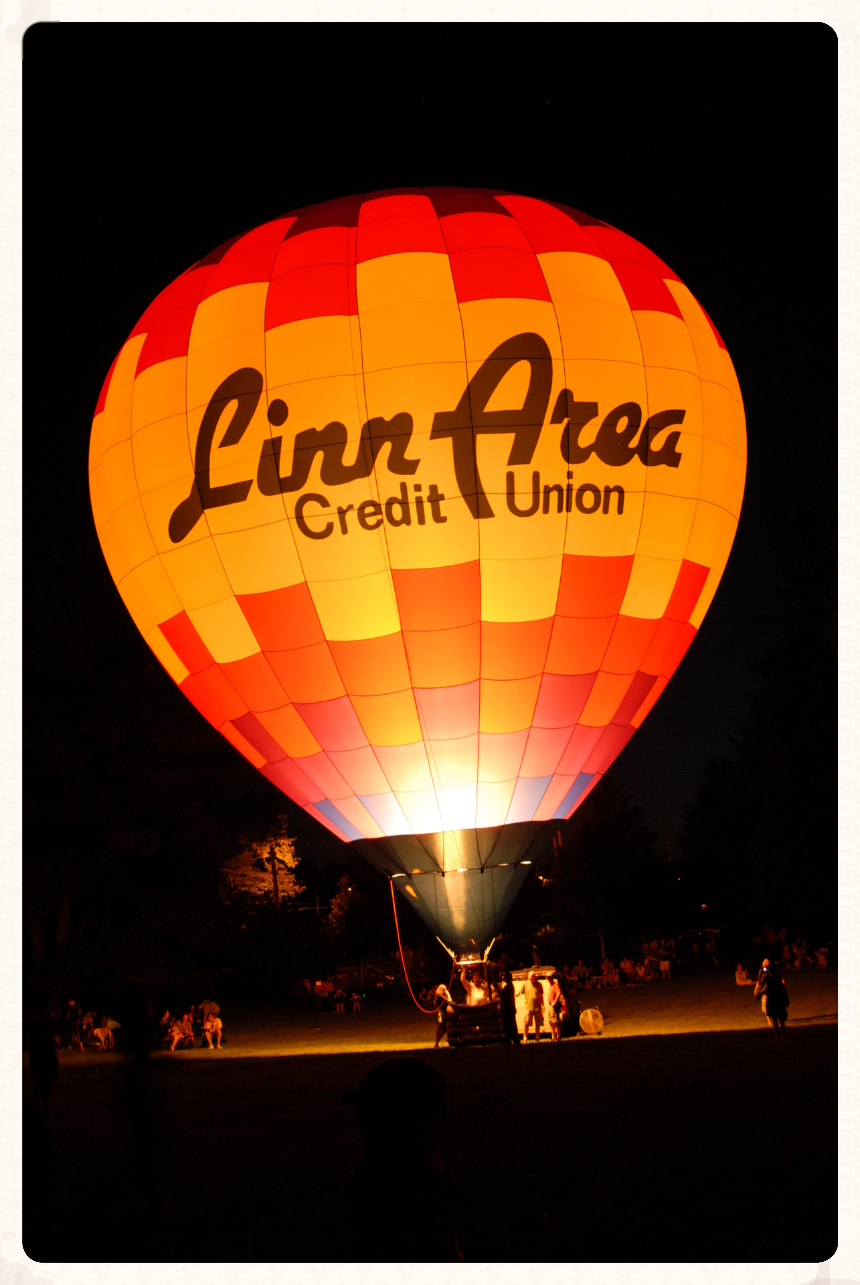 Interesting Facts:
Make: Cameron Balloon
Model: Z-90
Height: 70 feet
Weight: 673 lbs.
Diameter: 59 feet
Volume: 90,000 cubic feet
Maiden Voyage: May 15, 2008
Sponsored by: Linn Area Credit Union
Our 4th balloon is larger than the others, and features a spiral pattern of blue, red, and yellow. Often flown by Pilot Matt Bousselot, this balloon was popular at balloon glows. It moved to St. Louis in January 2016.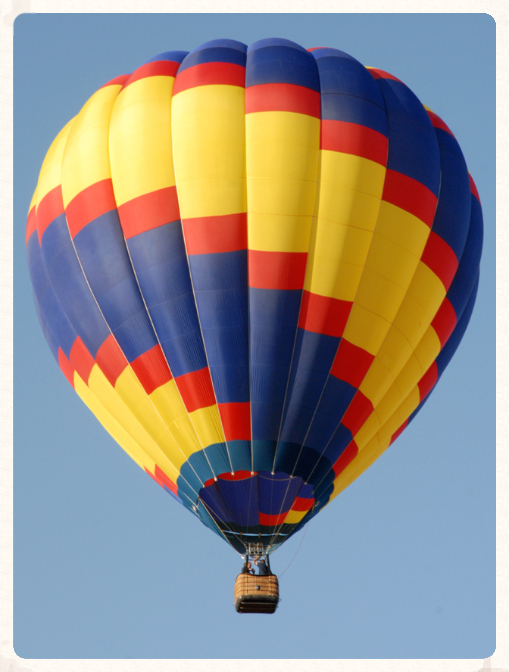 Cropduster (moved to new home)
Interesting Facts:
Make: Cameron Balloon
Model: A-105
Height: 74 feet
Weight: 753 lbs.
Diameter: 61 feet
Volume: 105,000 cubic feet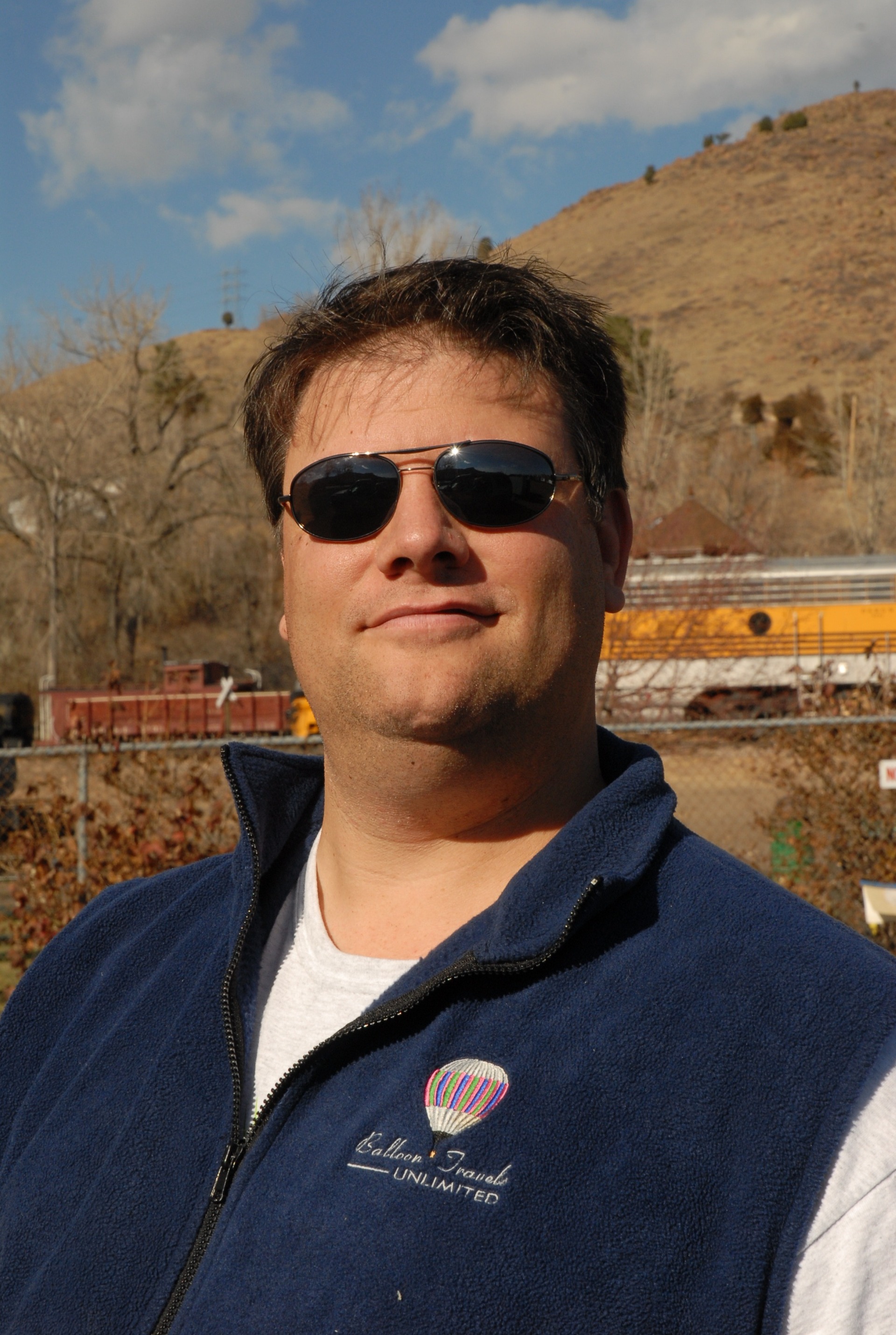 Kevin Kamp
Kevin's first experience with hot-air ballooning was in 1986, while still in high school. A friend had an aunt and uncle that flew balloons and he tagged along to
Matt Bousselot
Matt has had an interest in aviation for as long as he can remember. In high school he even considered a career path in aeronautical engineering. However, it
wasn't until later in life that Matt realized his desire to pilot an aircraft and discovered his real love of flying. In 2006 his wife Anne gave him a gift certificate for his first flight in a small aircraft, a T-6 Texan WWII trainer plane. He was so inspired by that experience that he immediately signed up as a student pilot at a local flight school. He trained in fixed wing aircraft for a couple of years but, eventually, work and life got in the way so he had to suspend his training. For several years he became an aviation enthusiast, made an annual pilgrimage to EAA's AirVenture, and waited for an opportunity to get back in the pilot's seat. In 2012 that opportunity presented itself, but instead of a seat it was in the form of a wicker basket! He was introduced to hot air ballooning when he started crewing for his neighbor, Kevin Kamp. Matt was attracted to the sport of ballooning not only because it presents an opportunity to fly, but also because it offers a unique opportunity for family and community involvement. Matt became a hot air balloon pilot that same year and his wife, Anne, discovered her interest crewing along with his two kids, Tyler and Laila. Along with his family and friends, Matt is really enjoying making memories in the sport of ballooning. Matt's favorite ballooning quote comes from a pilot who summed up the sport by saying, "That's what it's all about... you make people happy". When he is not flying, Matt has a career in electrical engineering and works at Rockwell Collins.